Painbow
Painbow lets you use XKCD's "painbow" colormap in ggplot.
XKCD implied that this colormap is terrible, and even called it a "painbow". However, these examples show that with certain tasks and data, this colormap outperforms even some of the most commonly cited "good" colormaps like viridis.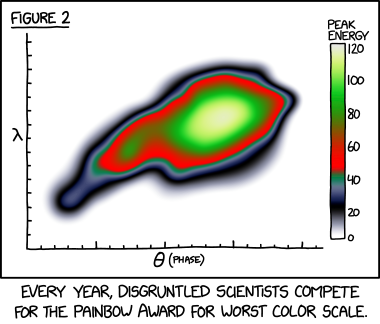 Here's a reproduction in ggplot using some custom theming:

Installation
You can install the latest development version:
install.packages("devtools")
devtools::install_github("steveharoz/painbow")
Examples
Setup:
A simple example for the scale:
The dataset from the comic
The dataset is painbow_data. It was made using the comic's image and a scripted lookup table.
Painbow may help you find outliers
Here is a 2D field with a regular pattern and a deviation. Can you find it? Painbow makes a task easier compared with commonly touted "good" colormaps.
Painbow can help you spot a subtle pattern among data with high dynamic range
Feedback, issues, and contributions
Feedback, suggestions, issues, and contributions are all welcome! Please file an issue or pull request at https://github.com/steveharoz/painbow/issues
Citing Painbow
The XKCD comic deserves credit: https://xkcd.com/2537/
Please cite this library via:
Steve Haroz (2021). Painbow. R package version 1.0.0, https://github.com/steveharoz/painbow/.